Welcome to



FIAP product insights
Streamlining operational processes
Shift from traditional methods to enhanced operational efficiencies. By automating error-prone manual processes, minimise risks while ensuring accuracy and reliability with FIAP.
Read more below or back to the Table of Contents
Streamline your internal business processes considerably by moving them to our platform. 
We configure individual and customer-specific process flows and document templates for each customer we onboard to our FIAP platform. This allows for fully automated business workflows covering each customer's entire issuance process individually. 
The pre-issuance phase includes defining the data model for each product type, configuring the document templates, and defining the MiFID target market classification. 
During the actual issuance process, several workflows run in parallel, such as the creation of Final Terms, the computation of PRIIPs key figures and performance scenarios, the MiFID target market assignment and validation check, and cost and risk calculations. 
Based on this input, PRIIPs KIDs are created. The generated data and documents are systematically stored in databases and distributed via an interface network to third parties and data hubs for further processing.
Since we are connected to the most relevant supervisory authorities, market data providers, stock exchanges and custodians, this allows filing your product with regulators and clearing houses, listing them with the exchanges and distributing data and documents to third parties. 
Our extensive network of third parties includes
We can build adapters to additional third parties upon request
After the issuance is completed, we are still in charge of your product and cater to it during our life cycle management: We monitor your product and the PRIIPs key figures on a daily basis, we re-compute MiFID II costs and risks and whenever we detect significant changes that necessitate a new KID document, we automatically create a new KID and distribute the document as well as the relevant product data to the relevant third parties.
Rigorous Regulatory Compliance
FIAP integrates automated KID document creation and precise MiFID II and PRIIPs calculations, thus simplifying regulatory compliance.
Read more below or back to the Table of Contents
Our FIAP platform provides an integrated solution for fully automated document creation and management that meets all regulatory requirements in accordance with the PRIIPs and MiFID II regulations. 
We have a large and experienced team of financial engineers who are proficient in valuation and risk management and have a background in Structured Products and OTC derivatives. 
Their profound expertise is at the heart of our sophisticated calculation engine that computes highly reliable key figures, performance scenarios, cost transparency data and risk indicators, all required under the PRIIPs and MiFID II regulations and the associated Regulatory Technical Standards (RTS) requirements.
Adherence to PRIIPs regulation
The calculation of PRIIPs Key Figures as offered by our FIAP platform includes the following figures:
Value at Risk Equivalent Volatility

Market Risk Measure

Credit Risk Measure

Summary Risk Indicator

Expected value and yield for a simulated investment of 10,000 EUR for each of the following performance scenarios for both the recommended holding period (RHP) and maturity-dependent for interim holding periods in accordance with the applicable PRIIPs regulation:

Favourable scenario

Moderate scenario

Unfavourable scenario

Stress scenario



Total costs (expressed as an absolute amount and reduction in yield) for each holding period to be delivered as specified above.

Cost break-down for the Recommended Holding Period:

One-Off costs:

entry costs

exit costs



Recurring costs

portfolio transaction costs

other ongoing costs

Adherence to the MiFID II product governance requirements:
To be compliant with the MiFID II product governance requirements, manufacturers must identify the potential target market for every financial instrument that they offer. Manufacturers must also make sure that each of their offered products remains compliant with the target market criteria that were defined throughout the lifespan of the product.
MiFID II also requires that ex-ante cost estimates and ex-post costs for entry, exit and ongoing costs are calculated. On the FIAP platform, these calculations are performed in accordance with the MiFID II regulatory requirements.
FIAP allows manufacturers to define a set of rules for the allocation of target market categories to every product.
FIAP also allows manufacturers to define validation rules using MiFID key figures as a reference.
The so-allocated MiFID target market information is part of FIAP's response files, which are then processed and distributed to third parties.
FIAP users also benefit from automated monitoring of potential violations of validation rules. If a violation occurs, it is reported to the customer via the MiFID dashboard and via email. Manufacturers can then use the dashboard for an audit-proof exception handling.
Adherence to regulatory-compliant KID production
KIDs (Key Information Documents) are produced fully automated via the FIAP platform.
This includes the following services:
Set up of KID document templates in the desired languages according to the sample KID document provided by the customer or based on the official document template for KIDs as laid out in the Regulatory Technical Standards (RTS) in the respective language.

Automated PRIIPs KID production in the form of unmodifiable PDF files, one for each product and language

Cloud storage and publication of the latest KID version via static URL

Daily monitoring of the relevant PRIIPs key figures and performance scenarios to identify "significant changes" and trigger the creation of KID updates, if required

Audit-proof archiving for KID pdf files
KID documents produced by FIAP are at all times compliant with the Regulatory Technical Standards (RTS).
Accelerated Market Launch of new Products
Launching new products in a very short time-to-market to adapt to changing market developments or changes in the investor's demand is a crucial competitive factor for manufacturers of structured products.
In general, issuance processes that involve overnight distribution of product data only allow the launch of new products on the following trading day.
TTMzero has partnered with Europe's leading numbering agency (WM Datenservice) providing FIAP users with functionalities to immediately launch new products based on intraday issuance workflows.
The Intraday issuance service follows a two-step approach:
Creating preliminary new products - so-called "ISIN shells" - with incomplete product data and keeping them "in storage."
Launching the actual product by completing the outstanding attributes on the issuance day.
FIAP offers a management solution for the rule-based maintenance of an ISIN shell repository for intraday issuances via a web frontend. ISIN shells are automatically created with the required profiles and quantities based on rules defined by the issuer.
The service always keeps the inventory of ISIN shells ready for issuance in accordance with the issuer rules by deleting expired ISIN shells and re-filling the inventory after ISIN shells are consumed for intraday issues.
Launching an intraday issuance is a fast-track option for FIAP customers to react to market developments instantly and to fill gaps in their product offerings through launching new products within minutes.
User-friendly KID Template Editor
TTMzero's KID Template Editor is an easy-to-use web frontend that aims to provide user-friendly functionalities to generate and modify document templates for Key Information Documents (KIDs). 
It is directly connected to TTMzero's KID generator service which contains all functionalities for the automated generation of KIDs from approved templates, including the necessary PRIIPs key figure calculations.
TTMzero's KID Template Editor allows users to independently create new KID templates in multiple languages and to change existing templates without the involvement of TTMzero's developers.
The web-based application provides default KID templates for all 24 languages that are in scope for the PRIIPs regulation, plus Norwegian.
All PRIIPS languages supported
Customers benefit from a legally compliant document skeleton for each language provided by TTMzero that allows them to focus on the descriptive content. The skeleton includes the structure of the KID document, the PRIIPs key figures, and  the wording specified in the Regulatory Technical Standards (RTS). Users producing KIDs in several languages therefore benefit from reduced complexity due to KID templates compliant with current regulations.
KID templates in the KID Template Editor are set up in the customer's corporate design, including logos, fonts and colors.
The creation and modification process of the templates includes a four-eyes principle (Maker, Checker and Starter roles), audit trail and collaboration functionalities. All change requests are archived and can be accessed at any time.
The Template Editor keeps log files of all changes and provides users with a history of all versions for each template. Changes can thus be traced and downloaded for audit purposes.
The Template Editor allows editing of one document template or multi-document editing of different templates in one editing step. 
Documents can be previewed and downloaded as PDF files.
All this makes creating and editing KID templates easy, cost-efficient and audit-proof. 
Key benefits of the kid template editor
Diligent Life Cycle Management
Even after a product is issued, it needs diligent maintenance for the issuer to be compliant with regulations during the lifetime of the product.
FIAP monitors and recalculates PRIIPs key figures as well as MiFID II cost and risk figures on a daily basis. If "significant changes" are observed, this triggeres a new KID document. The updated data and documents are then automatically distributed to the relevant third parties via our data hubs. This guarantees that issuers always publish the current KIDs document and are compliant with regulations.
Also, some instruments are subject to certain life cycle events such as corporate actions or knock-outs that require an update of all related data and documents, which then have to be distributed to all necessary parties.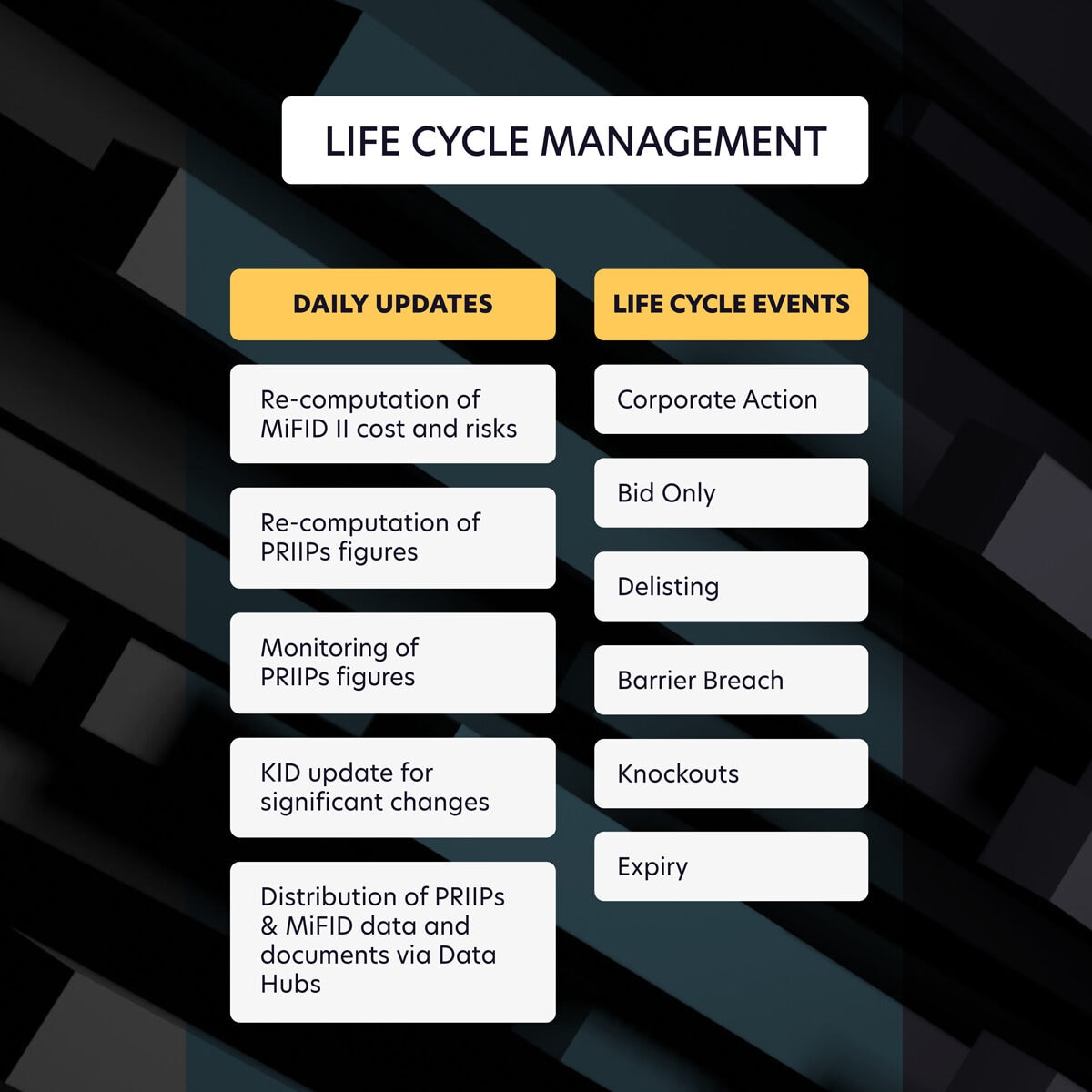 For this, FIAP users can upload life cycle events and thereby trigger the process for the subsequent automated handling, which can - among other steps - include the following:
Sending updated instrument data to third parties such as data vendors, exchanges, regulatory authorities, etc.

Updating MIFID II Cost Transparency Data.

Updating PRIIPs Performance Scenarios and Summary Risk Indicators.

Updating and distributing documents (e.g. PRIIPS KIDs, Termsheets, etc.)
Life cycle events that trigger subsequent processing on FIAP are:
Corporate Actions such as stock splits, mergers and spin-offs 

Delistings

Bid only

Knockouts

Barrier breaches

Expiries
Customisable Modular Microservice System
For every stage of the product's life cycle - and also before - we have numerous services, modules and process functionalities you can choose from. You decide, where in the process of the creation and maintenance of the product you want FIAP to take over - we develop your individual workflows.
As our client, you can choose from our following services: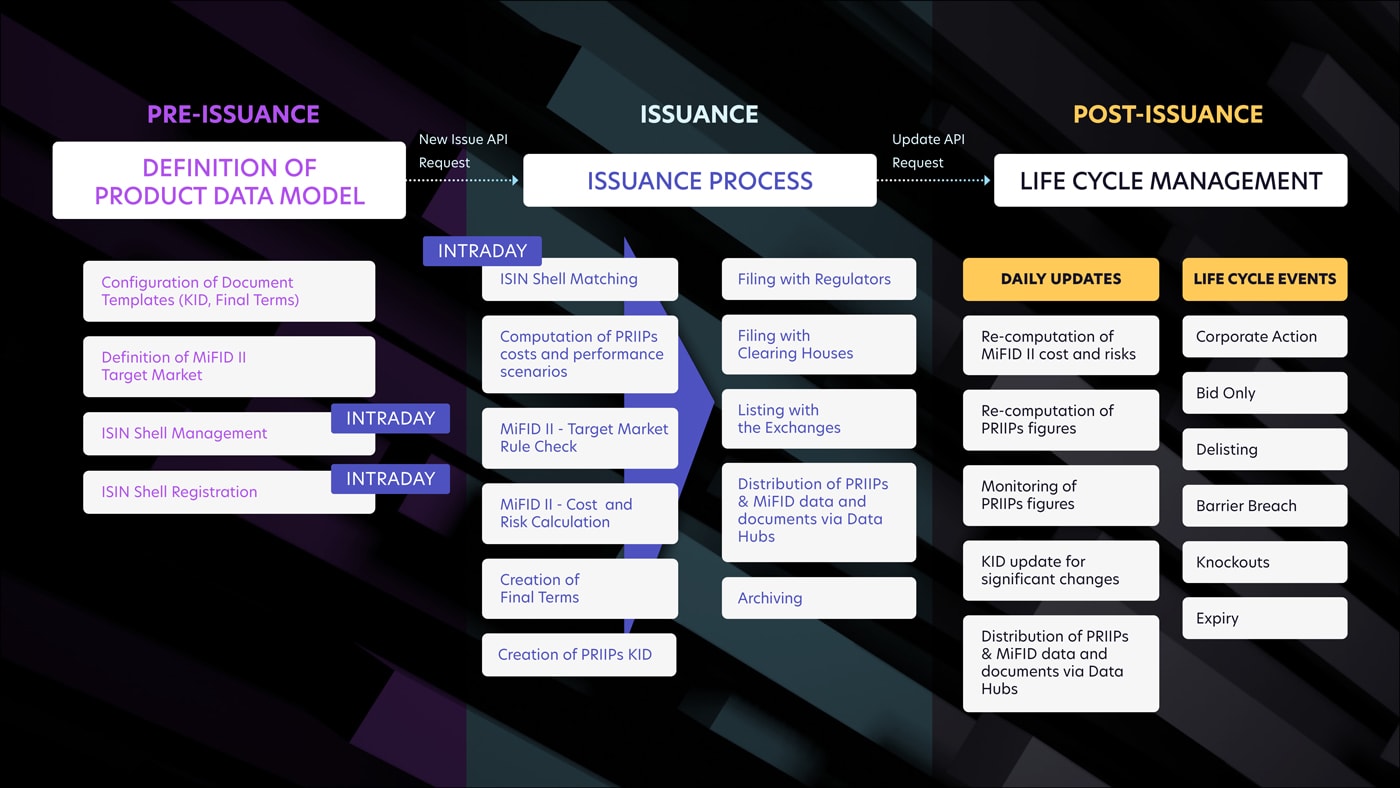 These are the tools and services we offer: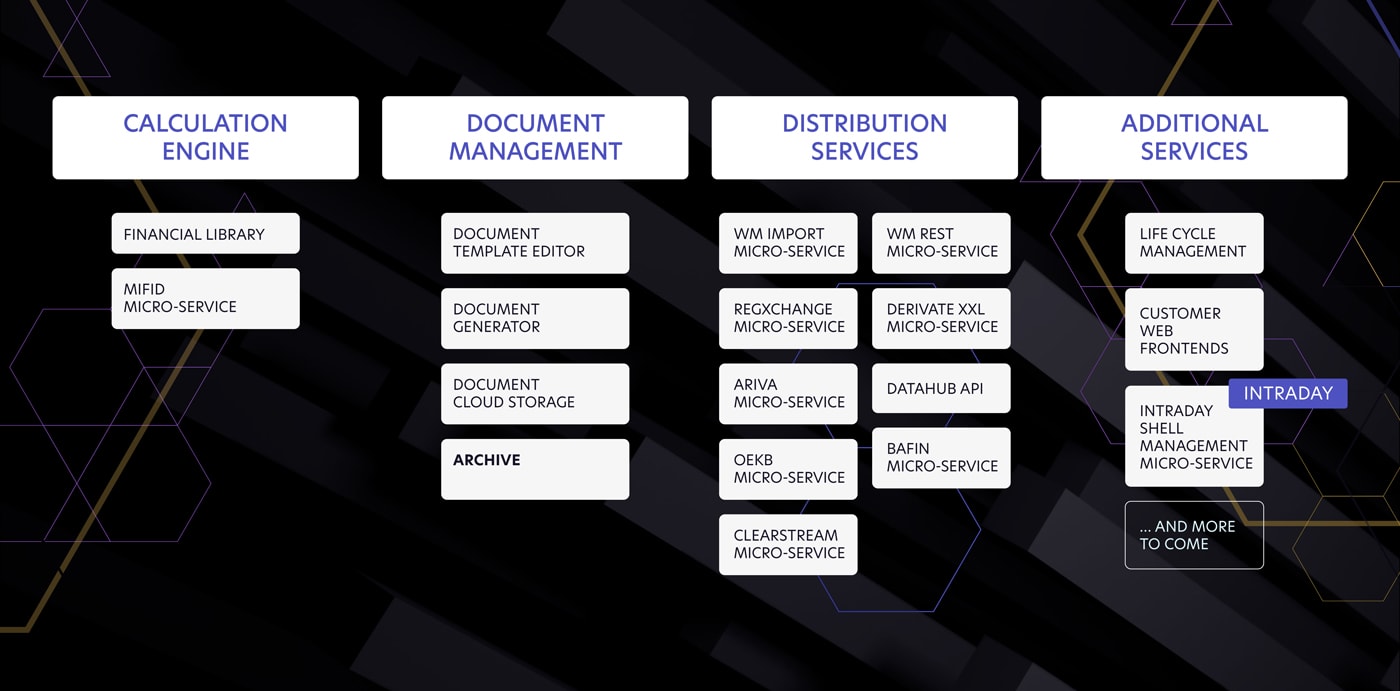 With our various microservices, interfaces and adapters to third parties, we can accomplish all tasks required in the entire issuance process, including pre- and post-issuance functionalities.
Key Stats
All 24 languages of the PRIIPs regulation, plus Norwegian
200k+ MiFID II and PRIIPs key figures calculations per day
50k+ Updates of KID documents per day
600k+ Newly launched products over the past 12 months
<3 minutes for launch of an intraday issuance
10+ third parties connected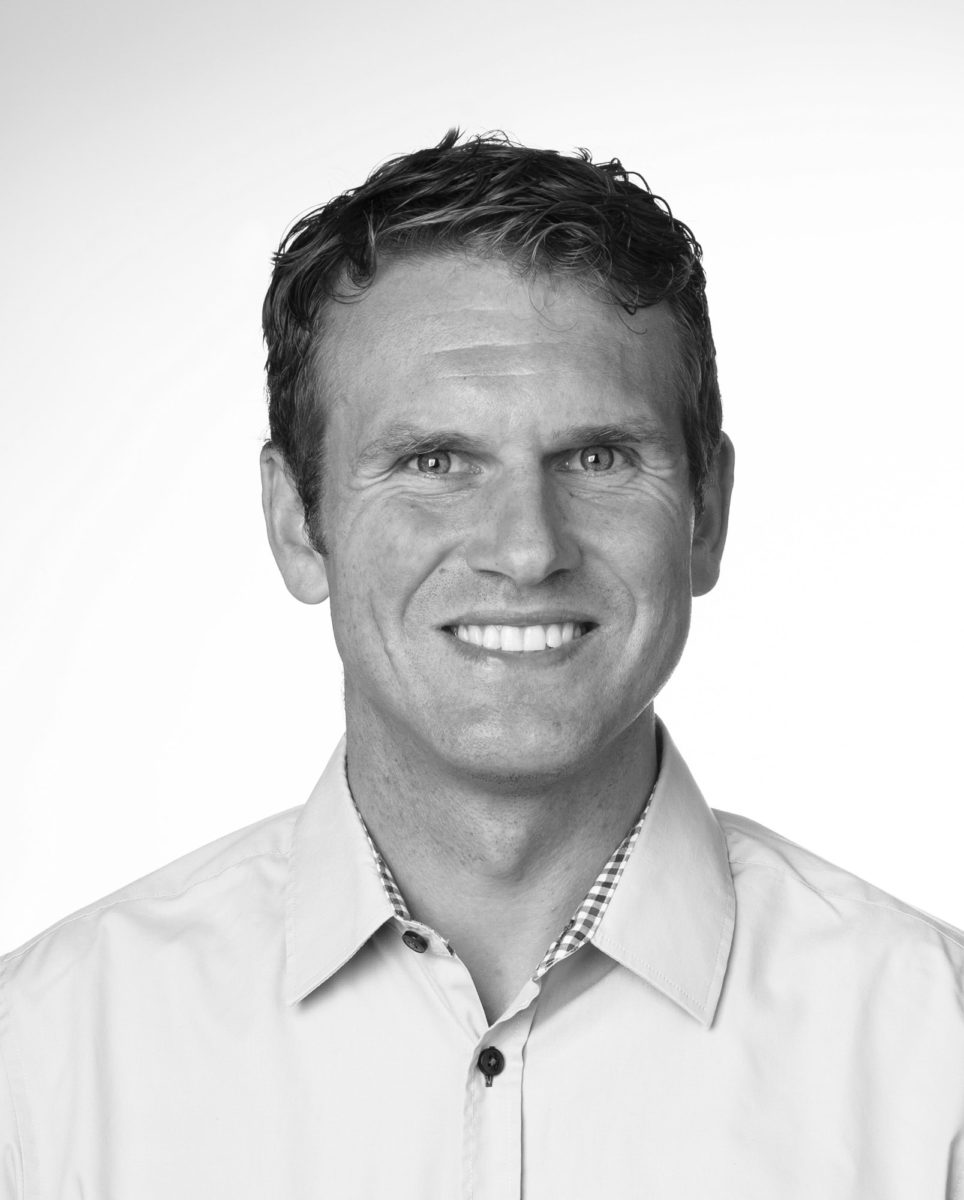 Manufacturers of structured products don't need to operate their own infrastructure - we manage the entire issuance process of their product and beyond.
Simon Ullrich, Founder & Managing Partner at TTMzero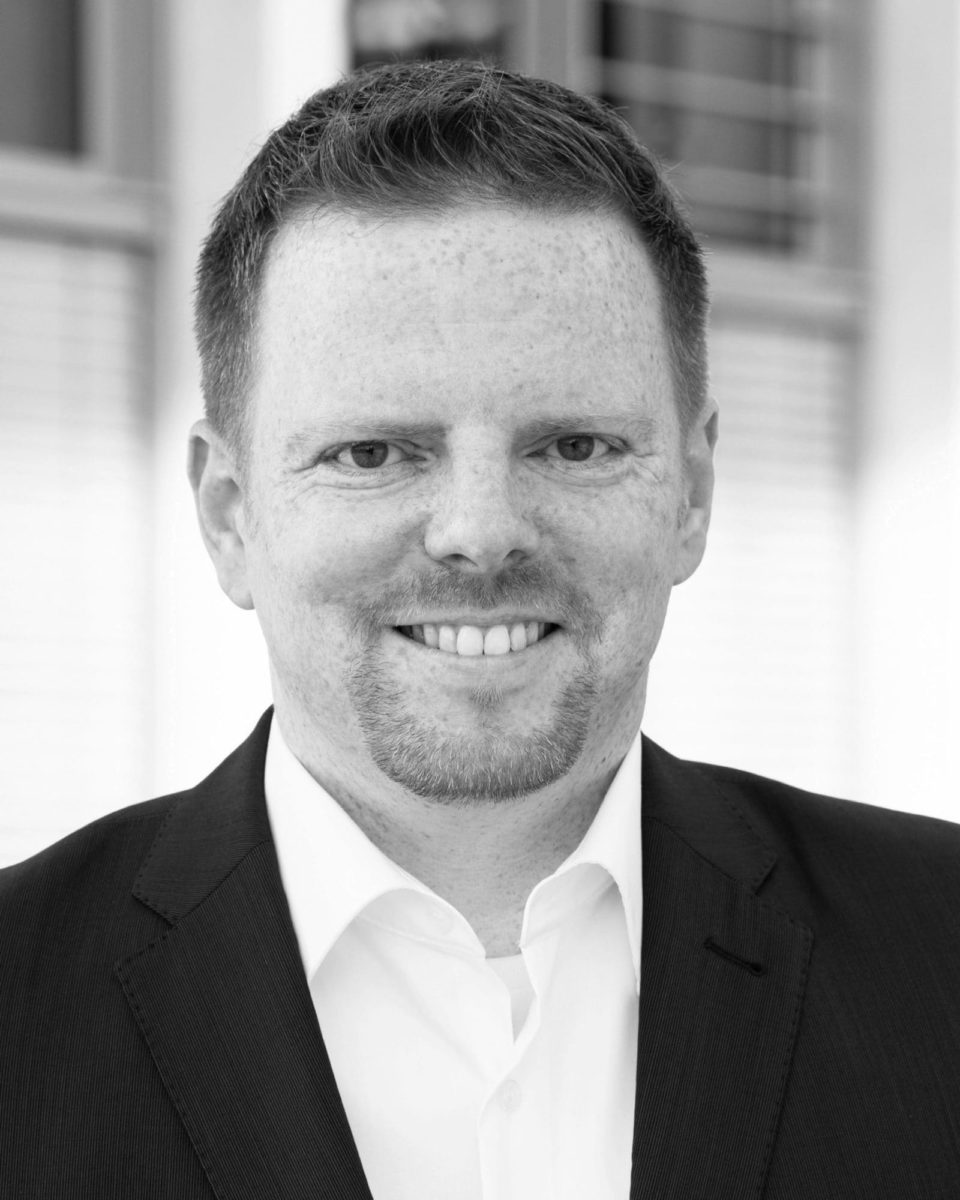 TTMzero's platform transforms the manufacturing of structured products, centralising issuance, regulatory compliance, and third party interfaces into a seamless one-stop solution.
Jan Hegermann, FIAP Product Owner
Explore TTMzero's offering