Data
Feeds

& APIs

Whether you are looking for live price data, historical data or news to keep you updated on financial markets - we've got you covered. Multiple sets of APIs and connectivity options make the integration easy and smooth, including: FIX protocol, Proprietary Binary, JSON and XML protocols.

Our market data comes with live pricing and historical data access across all asset classes. Historical data is offered on 20+ timescales from Ticks to Monthly.

Uptime and redundancy are fully ensured via multiple hosting centers, with fail-over and 24x7x365 surveillance on all feeds. Any combination of assets, feeds and sources can be accessed using the same APIs and formats.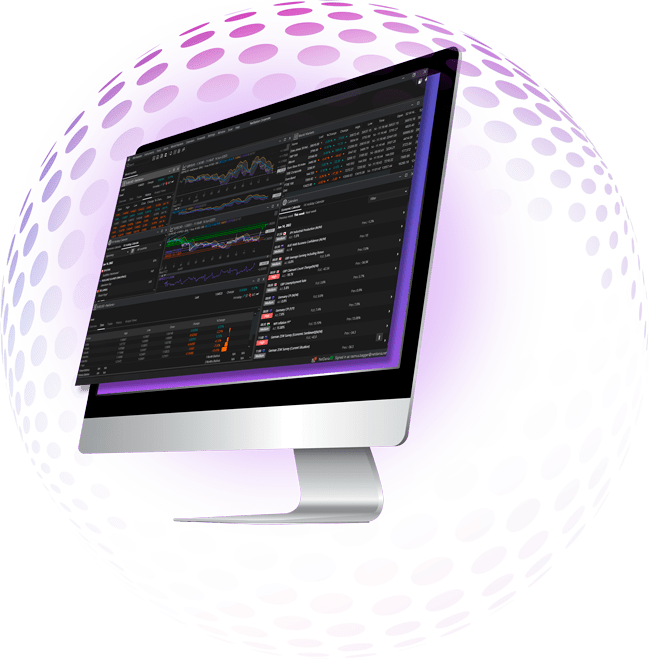 Trusted by many of the world's largest financial institutions
Proprietary Interbank FX Feed
Our premium tradable Interbank FX feed includes 80+ spot currency pairs and precious metals rates against major currencies.
The feed is derived exclusively from Tier-1 Liquidity Providers, showing top of the book from the world's top 10 FX banks. Optionally, make use of accurately calculated synthetics, offering 500+ additional pairs.
Extended FX & Derivatives Feeds
Our Interbank FX feed is complimented by direct connections to multiple third party sources, delivering independent pricing across the FX and derivatives markets.
Prices and history from premium feeds with over 100 contributors, covering more than 2,650 spot rates and over 8000 Forwards & NDF's. On average we make over 150 million updates per day on spot alone.
NetDania's offering also spans other areas such as FX Options Data featuring ATM Volatility, Reference Forward Rates, Risk Reversals and Delta Butterflies.
Money Markets, Fixed Income
Through a global network of sources, NetDania offers data from Money Markets, covering Deposit Rates, FRA's and IRS'. As well as Treasury Spreads, Bond Yields, Interbank Offered Rates (IBOR), and much more. IBOR and Government Bonds can be offered both as official rates and/or live OTC rates.
Equities, Indices & More
We offer pricing and history from most global exchanges. Our integration with global data vendors and exchanges, through a combination of direct and indirect connections,  guarantees we can meet your requirements at all stages of your business cycle.
Combine feeds from exchanges with any of the other sources offered without ever changing API or business logic. Partners include CQG, FIS, ICE DS, MorningStar, Cboe, proprietary feeds & more. Through our partners, NetDania can offer access to 200+ global exchanges and markets.
Reduce Market Data Costs by Up to 90%
Working with alternative sources allows us to offer a cost-effective market data solution, tailored to your specific needs. Such sources include feed providers calculating estimated real-time pricing for a broad range of assets, including  Indices, Futures, Stocks, and more. All based on more than one million OTC derivatives.
Crypto Fast Latency
Access to real-time tradable rates, market depth, historical data, trade volumes, etc., from 10+ major crypto exchanges, optionally aggregated into a single order book, showing absolute best prices in the market.
Coverage
Our news feeds cover 50+ sources, including IGM/Informa, Globe Newswires, MT Newswires, as well as a range of public financial news feeds. This ensures we can always deliver a highly relevant news feed covering a broad range of assets, matching your needs and budget.
Sources are fully tagged on multiple levels, allowing relevant filtering on instrument, asset-class, and country.
Research
In addition to core news, in-depth research from sources like IGM/Informa delivers extensive independent, actionable insights on the FX markets. Economic Calendars with variable levels of coverage and pricing can also be offered via a feed.
Publish Your Own Data
Publish your own market data, news, research, videos and more to any platform and any mobile or desktop device.
Access historical data and set cloud-based alerts on your own data and push notifications.
Technical Details and Connectivity Options
Any feed, including historical data and news is available via APIs for iOS, Android, Java, C#, JavaScript and NodeJS.
All APIs support streaming, long-polling and polling protocols
Connectivity to any feed is also available via FIX protocol, as well as via language independent XML format, JSON and Binary.
 24/7 online & phone support
 24/7 surveillance on all price and news feeds
 Multiple data centers with fail-over